6May 2018
Take Screenshots of Your Results
One thing you can do to start branding yourself. Every time that you get a positive result, you need to leverage it, and one of the best ways is to take screenshots of your success along the way.
For example, let's say in your first month and you get three sales and you make $1,250 each time. Now, all you need to do is login to your back office, or even your bank account and take a screenshot.
When you do this, it creates instant credibility, because now you can tell people, "I've only been doing this for a month, and I've already made
$3,750. In fact, I was able to make $1,250 online in one day, and here's the proof."
When you show people your results, they will be more likely to believe they can do this themselves.
In fact, you could even start a lot smaller than that …
For example, even before you made $3,750 in a month, you probably had smaller results. Maybe you generated seven leads in a single day.
And it might be surprising to you, but most people don't know how to get seven leads in a day—so you would be giving a lot value to them just by helping them get more leads.
You could take a screenshot of your new leads, and show them those results too. You can say, "Hey look, I might not yet be this big fancy guru who's making millions of dollars, but I know how to generate leads and it gets easier everyday. In fact, on my best day I've generated seven leads, just look at this screenshot."
You never know what they're thinking—maybe they haven't yet figured out how to generate even one lead, but YOU can show them how.
Tell them, "If you'd like me to show you how, I'll get on the phone with you, I'll walk you through it step-by- step and I'll give you a Free 30-minute consultation when you get started in this program." And then when they buy whatever program you're selling, you call them for 30 minutes and tell them how to get new leads.
Here's the deal…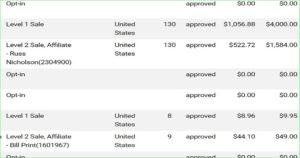 Every result you get, whether it's your first few clicks, you have your first bit of traffic coming in, your first few leads or even sales—you can leverage ALL these results to position yourself as the expert.
And over time, as you keep on marketing and growing your business, you will soon start making some good high-ticket commissions.
You'll get to where you can make $2-3,000 in one day, and eventually you'll have your first $8-10,000 a day. The moment that happens, then you can really talk about it.
From that point forward, you can tell people you can show them how to make $3,000 or even $10,000 in one day.
As long as you keep building your brand, and leveraging your results, someday you will discover that you have actually become the expert people are seeking.
Hopefully you can use these this tip to create leverage in your business when first starting out and get started building your own personal brand.
Also, if you want to cut your learning curve even faster, I have a really good opportunity for you …
It's called the Patriot Funnel System (PFS)—and it's a "done for you" system, and great a way for you to start quickly making money online.
Developed by a retired U.S. soldier who served over 22 years in the U.S. military, this breakthrough system shows a simple way to start making $10,000 (or more) every month!
PFS breaks the process down into 21 simple steps anyone can understand. You will get instant access to training videos and other materials in your member's area that will show you these 21 steps.
In fact, I'll reveal how regular people from all over the world—including an 85-year old man—have made life-changing money with this system.
All you have to do is send leads (we'll show you how) through PFS, and then you get paid as the sales are made for you.
The system works hard to turn your leads into sales, and then some of those buyers will go on to buy other products and programs through PFS.
You'll get compensated for EVERYTHING your referrals buy, and the revenue can add up very quickly to $100s, $1000s or $10s of $1000s per month.
If you'd like more information about the amazing Patriot Funnel System …Click Here
And if you are looking for Premium Traffic at a limited discount price… You Have to try this for just $1 first time. Just sign in here and check it out to see for yourself!