We are all faced with challenges that require decision-making. How we meet our challenges though, makes all the difference in the image of success or failure.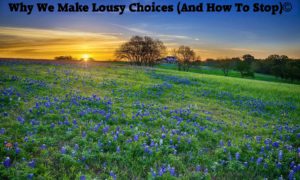 When we obsess over an outcome we create illusory stress, what most of us think of as "worrying about" something. An accurate description of worry would be using the mind to create a negative outcome which we do not desire, and yet which takes over our minds. Things then tend to go wrong when we begin with the limited idea that there is either a right or wrong choice for us to make. This type of duality thrives in a state of worry and stress, where problems exist with the worst possible outcomes.
This is the level of contracted awareness, or the level of the reactive mind. All "bad" decisions are nothing more than those made from a place of contracted awareness. This type of thinking leaves us victim to the reactive mind. Human emotions like fear, worry and hopelessness end up becoming the driving force of our choices.
For a moment, let's look at how the following situations of contracted awareness lead to bad choices: